The G01 X3 has a 245/45 R20, 225/60 R18 tires. Recommended tire pressure are 32 psi for front tires and 32 – 35 psi for rear tires. In this article we will answer the questions:
What is the bolt pattern on a BMW X3?
What size tires does a BMW X3 have?
What are the correct tyre pressures for a BMW X3?
What torque should BMW X3 wheel nuts be?
Wheel specs 2021, 2022, 2023
BMW X3 G01 M40i (382 hp) rim & tire sizes
Stock tire: 245/45 R20
Tire pressure: 2.2 bar/ 32 psi (Front), 2.4 (Rear) 35 psi
Rim size: 8×20
CB: 66.6 mm
Thread Size: M14x1.25
Bolt pattern: 5×112
Wheel nut torque: 142 Nm (105 ft-lbs)
BMW X3 G01 sDrive30i (248 hp) rim & tire sizes
Stock tire: 225/60 R18
Tire pressure: 2.2 bar/ 32 psi (Front), 2.2 (Rear) 32 psi
Rim size: 7×18
CB: 66.6 mm
Thread Size: M14x1.25
Bolt pattern: 5×112
Wheel nut torque: 142 Nm (105 ft-lbs)
BMW X3 G01 xDrive30i (248 hp) rim & tire sizes
Stock tire: 225/60 R18
Tire pressure: 2.2 bar/ 32 psi (Front), 2.2 (Rear) 32 psi
Rim size: 7×18
CB: 66.6 mm
Thread Size: M14 x 1.25
Bolt pattern: 5×112
Wheel nut torque: 142 Nm (105 ft-lbs)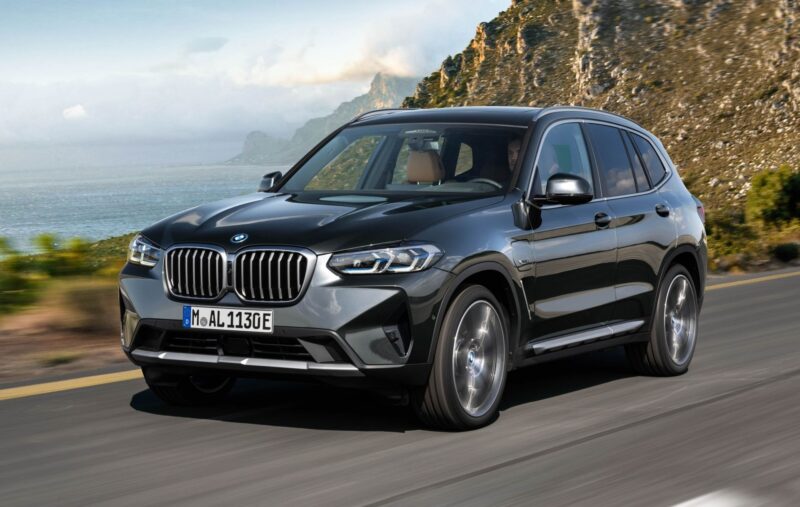 Wheel specs 2017, 2018, 2019, 2020, 2021
BMW X3 G01 M40i (382 hp) rim & tire sizes
Stock tire: 245/50 R19
Tire pressure: 2.2 bar/ 32 psi (Front), 2.2 (Rear) 32 psi
Rim size: 7.5×19
CB: 66.6 mm
Thread Size: M14x1.25
Bolt pattern: 5×112
Wheel nut torque: 142 Nm (105 ft-lbs)
BMW X3 G01 sDrive30i (248 hp) rim & tire sizes
Stock tire: 225/60 R18
Tire pressure: 2.2 bar/ 32 psi (Front), 2.2 (Rear) 32 psi
Rim size: 7×18
CB: 66.6 mm
Thread Size: M14x1.25
Bolt pattern: 5×112
Wheel nut torque: 142 Nm (105 ft-lbs)
BMW X3 G01 xDrive30e (288 hp) rim & tire sizes
Stock tire: 225/60 R18
Tire pressure: 2.2 bar/ 32 psi (Front), 2.2 (Rear) 32 psi
Rim size: 7×18
CB: 66.6 mm
Thread Size: M14 x 1.25
Bolt pattern: 5×112
Wheel nut torque: 142 Nm (105 ft-lbs)
BMW X3 G01 xDrive30i (248 hp) rim & tire sizes
Stock tire: 225/60 R18
Tire pressure: 2.2 bar/ 32 psi (Front), 2.2 (Rear) 32 psi
Rim size: 7×18
CB: 66.6 mm
Thread Size: M14 x 1.25
Bolt pattern: 5×112
Wheel nut torque: 142 Nm (105 ft-lbs)